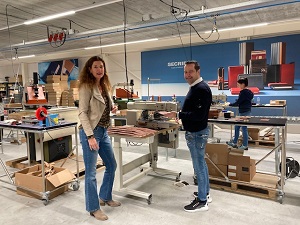 In Brabant gebeurt het! We kunnen het niet vaak genoeg herhalen. Van productie, industrie, hightech, logistiek tot bouw en techniek; je vindt het allemaal in Brabant. En Mariëlle kan het weten aangezien ze wekelijks over de vloer komt bij échte Brabantse maakbedrijven. Van traditionele maakbedrijven tot de meest hypermoderne productieomgevingen. Afgelopen week was ze bij ons op bezoek.
Thursday, November 5th, 2020
Every visit to a beautiful company makes my entrepreneurial heartbeat faster. However, I find it a bit odd that many Brabant entrepreneurs do not know each other yet, and therefore, there is no optimal cooperation within the region. What a shame! Because now, more than ever, it is clear that regional cooperation in the chain saves time and energy (and delivers!). It´s a win-win situation. In short, I am on a mission! In this section, I always put a manufacturing company from Brabant in the spotlight. The scoop is for…PIANT from Waalwijk.
Last week, I visited an old acquaintance: Robert Brekelmans of PIANT. The Waalwijk-based family business provides punching and laser work for the industrial, plastics, graphics and leather sectors. A typical example of Made in Brabant. It has been four years since I last visited his company, and Robert has not been sitting around. PIANT has moved to a beautiful new building next to Bol.com in Waalwijk. And this in the middle of corona time when a few big clients had put their orders on hold. You could get sleepless nights from less, but Robert is not exactly the type of entrepreneur who gives up.
On the contrary, he persevered. He had set up a new production line for medical face shields in no time in collaboration with the Radboudumc. Smart and creative from a business point of view, and I find it particularly hopeful that we can switch so quickly in Brabant and be able to produce locally ourselves in situations that matter.
The new production environment at PIANT is equipped with innovative machines which, among other things, ensure that up to 15 per cent more is obtained from the leather than is currently the case in the market. This contributes to Robert´s end goal: To have the shoe and leather industries produce regionally once again. It´s an ambitious goal, and I think he is going to make it!
And of course, when I hear that, my entrepreneurial blood starts to crawl, and I immediately ask myself which entrepreneurs from our Brabant Business Community would be able to connect to it. The first lines of communication have been made, and two appointments have already taken place, as I heard from Robert. That is what I call perseverance.